ヒトシミュレータ Human Simulator
【研究目的】 より実践的な実習環境を目指して
キーワード:ヒトシミュレータ,バイタルサイン
使用ツール:Visual Studio 2008,2013(C#),Heart To Heart 4 ver2.3,SolidWorks   
1.研究背景 Research background
 近年,医療技術の進歩とそれに裏づけされた医療の専門化,患者の要求の高度化や医師の不足,医療訴訟の増加など医療を取り巻く環境は大きく変化している.
そのような変化の中,医学部卒業生の臨床におけるコミュニケーション能力などの技術不足が問題となっている.これは,医学部学生のための実習が不足しているためであると考えられる.
そこで,このような実習の不足に対し,実際の患者と同様な動作を行うことができ,また患者の様々な状態を再現できるヒトシミュレータの開発を行う.


 In recent years, the environment surrounding medical care has greatly changed, such as advances in medical technology and medical specialization supported by it, sophistication of patient demand, lack of doctors, and an increase in medical litigation.
Amid such changes, lack of skills such as clinical communication skills of medical graduates has become a problem. This is thought to be due to the lack of practical training for medical students.
In view of this lack of practical training, we will develop a human simulator that can perform the same actions as an actual patient and can reproduce various conditions of the patient.

2.バイタルサイン Vital signs
 バイタルサインとは,患者から得られる生命兆候であり,患者の状態を把握するための非常に重要な情報収集手段である.
このバイタルサインは,患者によって一定ではなく,教本上の知識だけでは測定は困難である.
そのため,本研究では患者のバイタルサインを再現できるヒトシミュレータを製作し,患者の状態を観察する実習が行えるようにする.


 vital sign is a vital sign obtained from a patient and is a very important information collecting means for grasping a patient's condition.
This vital sign is not constant depending on the patient, and it is difficult to measure only by knowledge in the textbook.
Therefore, in this study, we will create a human simulator that can reproduce the vital signs of patients, and will be able to practice the patient's condition.

3.ヒトシミュレータ Human Simulator
 The human simulator is being developed as a single function such as vital signs and motor functions.
Motor function is used as a means of output, mainly developing arm mechanisms and eye mechanisms.
As an example, the eye mechanism has developed a mechanism capable of visualizing the patient and moving the eyeball. Vital signs and motor functions are linked by reproducing pupil changes and blinks.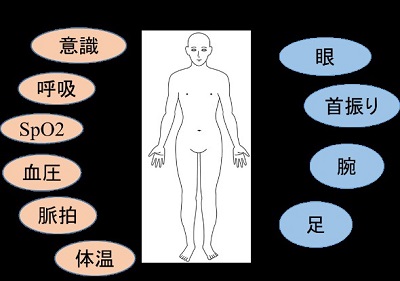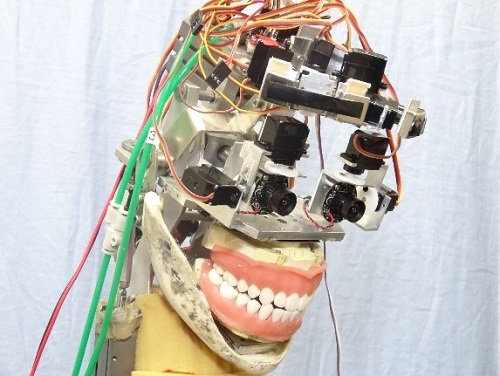 展望:汎用性の高いヒトシミュレータ Prospect:The versatile human simulator
 医療の現場は,病院に留まらず,在宅,事故現場,被災地など多様化を極めており,こうしたあらゆる現場で実習可能なシミュレータは重要である.
また,患者の状態も様々であるため,幅広い場面と状態を想定した汎用性のあるヒトシミュレータの開発を目指している.

 Medical sites are not limited to hospitals, but are diversifying at home, accident sites, disaster areas, etc. Simulators that can be practiced at all these sites are important.
In addition, because the patient has various conditions, we aim to develop a versatile human simulator that assumes a wide range of situations and conditions.